news
More gigs at the Lilla Riviera place with Kire Ljung..
Sept 30, Oct 28, Nov 25.

******
Autumn 2010 starts with a memorial gig for a friend of mine who passed away a few months ago. The Tommy Svensson Memorial Concert at the Cadillac bar in Örebro on the 18th of September with Mod Squad and Blue City Band.
>>>>>> Updated: The gig was a great success. A sold out house, lots of good music. Rehearsed with one band, played with two. Met lots of people that I have not seen in 40 years. Even played with a friend that I used to play with - 40 years ago..
We raised about 27000 SKr ($3500) for research on heart diseases.
Pictures are on their way..
******
The summer of 2010 was long, warm and relaxing. No gigs, no long busrides.. So nice.
******
Spring 2010 - more gigs at the Lilla Riviera place with Kire Ljung.
Febr 25, March 25, April 29. In Bromma, on Ängbyplan. 8-11.
******
Reminding you of the gigs at the Lilla Riviera place with Kire Ljung.
Next one is Oct 22.
Added some recordings from the last gig...
Autumn 2009 - more gigs at the Lilla Riviera place with Kire Ljung.
Sept 24, Oct 22, Nov 26.
******
The rest of the summer in the States ment hard work, seeing old friends again (Robert and Mary-Lou!), meeting new ones. Gigs outside of Boston was fun, gig at the Vanderbilt summer house in Asheville - Biltmore - was fun, (read Harry Potter style castle..). On the way back home a gig in Denmark, next Öland.... and then back to work.
******
"Great job, you old geezer.." the man in Park Place outside of Salt Lake City said to me..
"You called me what?"
He explained that that was what they had told Tom Watson when he was still in the lead after the third day of the British Open in golf. So I took it as the compliment it probably was.
By now we have done
- Salt Lake City/Park Place, the home of the Sundance festival and a nice ski resort. The city is very hot, the beautiful mountains still got snow on the tops.
- Chautaugua, west of Lake Eire, a small fenced-in village with 100 year old houses and its own rules.
- Rochester Hills close to Detroit, a nice park with Meadow Brook Hall which is an old castle that the Dodge family has moved there from England.
All shows made great success!
******
So the gig at The Hollywood Bowl was a great success. Sold out (18 000) and lots of fun. Came home with a flu that took a week of my vacation. But I also had a nice week on Öland taking care of my wine plants. And tomorrow I head for the States again.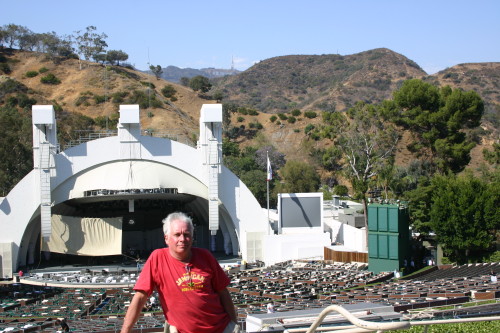 At the Hollywood Bowl - the famous Hollywood sign is far away over my head. :)
My ABBA-summer 2009 will be with ABBA - the Show in the states. We start at the Hollywood Bowl on the 27th of June. Check out for a tour plan. A nice chance to see some old friends again.
A milestone for Kire and me: Neil Young played an excellent concert in Stockholm at the "Where The Action Is" festival. As good as only Neil can be.
Kire and I tried to set up gigs for the summer with no luck. He is busy on his own and I will be doing other stuff. We had planned to gig close to my summer house in Byxelkrok, but it turns out that Kire will gig at Solö, Byxelkrok while I am abroad in the end of July. Tuff luck.
Kire and I had lots o fun at the place Lilla Riviera. We even had a lot of people coming to listen.. So we will probably do gigs there in the autumn.
Feb 26th turned out well.. Great fun! Lots of people came to listen.
Added a !
We (Kire and I) obviuosly had fun..
Lilla Riviera immediatelty booked us for 3 more nights:
Feb 26th
March 19th
May 7th
The plan is great. Let's see what happens.
New songs every night.
'specially for me.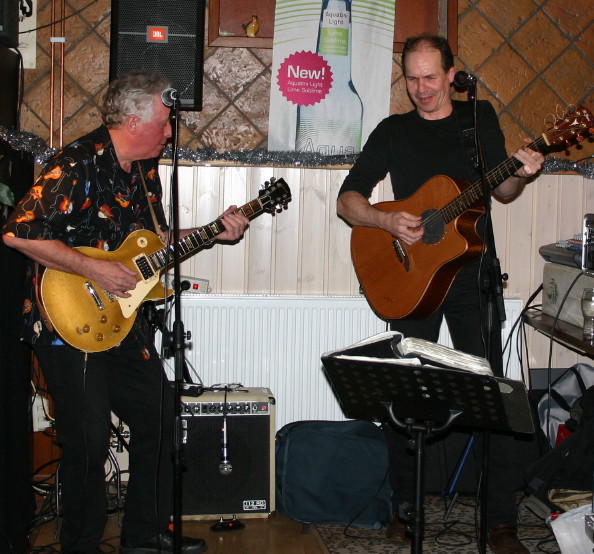 2009 opens with a gig with Kire Ljung on Jan 29 @ Lilla Riviera, Ängbyplan, Bromma
This time no entrance fee!!
Oct 18th 2008:
Heavy jet-lag after two weeks in the US.. Had fun days in Texas. Experienced Austin, a nice city with almost too many live bands. Fun gigs with The Austin Symphony Orchestra!
After that Dallas, relaxing. Saw the Kennedy Museum.
Gigs in Spring/Houston (another church gig!) and at last in L.A. Did not see much - mostly buses, highways and taxis.
More fun is coming up - on Thursday a gig in Bromma with Kire Ljung and after that more ABBA-stuff. Please see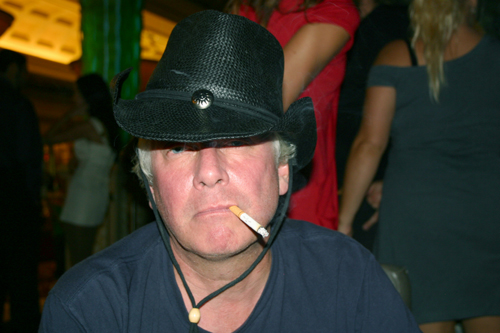 Aug 26th 2008:
On the 29th of July I (the Cowboy) got back from the US after a 3 week tour with Arrival. First we had a nice week in Milwaukee with 4 gigs and a lot of fun. Among other things I got to see the Harley-Davidson Museum on the day of the opening - .
After the relaxed time in Milwaukee we toured the states () from Tarrytown NY (nice Music Hall!) to Las Vegas.. On one day we were up in the mountains in Beaver Creek, Colorado close to the snow where the Colorado River starts. A few days later we were in Vegas where the Colorado River ends in the Hoover Dam. Some of us even had a helicopter adventure into the Grand Canyon -
Back in Stockholm some of us played the Pride festival, Steven Bush gave me
After that we needed some rest.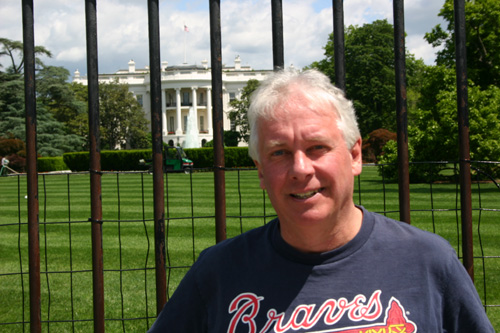 (Who is behind bars - him or me?)
May 2008:
Did four gigs in the U.S. with Arrival. Good fun as always!
May 20 VA , Wolftrap Foundation
- a fund raising party at the famous Wolf Trap. I even got a medal for playing guitar from the Minister of the Interior department..
May 21 PA, Pittsburg Altar
- a club in an old church. I predicted that the Penguins should get a hard time from the Swedes in Detroit, and I was right.
May 23 RI, Lincoln Twin River Events Center
- after two ridicously long drives in the tour bus, 14 hours and 22 hours, we did a show just an hour late.. The nice people at the place understood and were happy about the gig.
May 24 IN, Rising Sun, Grand Theatre, Grand Victoria Casino
- a time to meet old friends in Cincinatti and a good gig at yet another casino.

Feb 21st 2008:
Had a great night with Sonny Liston (the band) at Engelen in Stockholm. As usual you never know what they will play. That worked fine, but I did play on a borrowed guitar - with heavier strings than what I am used to.
Got blisters on my fingers..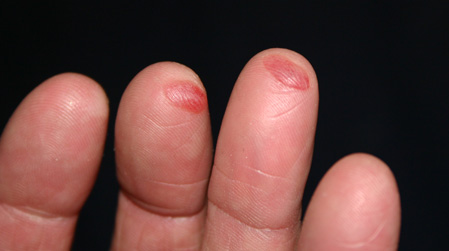 Dec 1st 07:
Going to Norrköping to play some gigs in December. Fun.
Nov 15th 07:
My friend Arne Arvidsson has agreed to build me a guitar, Telecaster style.